Appears in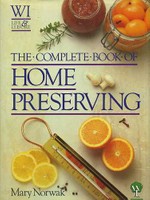 Candied or glacé fruit can be made from both fresh and canned fruit. Cherries, grapes, oranges, pears, pineapple and stone fruits are suitable for use when fresh. Many canned fruits are easier to process than their fresh equivalent, and apricots, pineapple, pears, mandarin oranges and lychees are particularly good.
Choose good quality fresh fruit, or a good brand of canned fruit in which the fruit is firm and in large pieces. Cook fresh fruit gently in water until just tender, or drain the syrup from canned fruit.
For fresh fruit, use a syrup made from ½ pint/250ml water and 6 oz/150g sugar to each 1lb/450g fruit. For canned fruit, allow ½ pint/250ml canning syrup to each 1lb/450g fruit, making up the liquid with water if necessary - only one kind of syrup should be used, and not a mixture from cans, even if a quantity of mixed fruit is being prepared at the same time.
Heat the syrup and use it to cover the fruit completely in a large bowl. Put a plate over the fruit to keep it under the syrup, and leave to stand for 24 hours. Day one: Drain off the syrup, add 2oz/50g sugar and dissolve. Boil and pour over the fruit and leave 24 hours. Days two and three: Repeat the process each day, adding 2oz/50g sugar each time. Day four: Leave the fruit in the syrup. Day five:
Add 3oz/75g sugar and boil the fruit in syrup for 4 minutes, then leave for 2 days. Day eight: Add 3oz/75g sugar and boil the fruit in syrup for 4 minutes, then leave the fruit to soak for 4 days.
At the end of this time, drain off the syrup and put the fruit on a wire cake rack to drain. Leave in a warm airing cupboard for about 3 days, or finish in an oven which is cooling after baking. The oven temperature should not be above 120°F/50°C/Gas Mark i
To get a professional finish on the fruit, there are two ways of completing the processing. The most simple way is to dip the fruit quickly in boiling water and then roll each piece in a little caster sugar. A better way is to make up a solution of 8oz/200g sugar in 2½fl.oz/65ml water and bring this to the boil. Then dip the fruit in boiling water for 20 seconds and into the boiling syrup mixture. Put on a wire rack to dry, and then store in boxes with waxed paper between the layers and keep in a cool, dark, dry place. Waxed paper from cereal packets can be used for this purpose.
Good candied fruit should be firm outside and succulent inside, with a bright colour and sweet, true fruit flavour.
© 1978 Mary Norwak estate. All rights reserved.