Appears in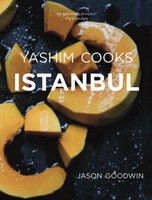 Most of the ingredients in this book need no introduction: they are refreshingly ordinary. Istanbul, after all, is a city of pronounced seasonality, making use of common winter vegetables like squash and carrots as well as the more delicate exotics. Seasonality means fresh, very fresh.
As we go to print, the fate of the 1500 year old Yedikule Gardens, the mother of all urban farms, hangs in the balance. Famed for their lettuce, as well as peas and tomatoes, these market gardens under the massive walls of old Constantinople have been tilled since early Byzantine days. They are threatened by the municipality, which wants to turn them into a park, with paths.
The Ottomans were more adventurous with their spices than modern Turks: after all, they were rich and powerful and held the gorgeous Middle East in fee, not to mention the Black Sea and the Balkans. The overland spice routes into Europe wound through the Egyptian Bazaar in Istanbul.
Two kinds of hot pepper are worth tracking down. Kırmızı, or pill biber often sits on the table beside the salt, to sprinkle over your kebab or soup. A common variety is known in the West as Aleppo pepper. Isot, or Urfa, biber is more subtle, made from red Urfa peppers that grow to deep purple. After harvesting they are dried in the sun by day but wrapped up at night the better to concentrate their flavour, which is smoky, slightly sweet, and deliciously warm. It registers nowhere on the Scoville scale but once you have tried isot biber you may find it compulsive.
Sumac is easily sourced. It's a wild berry with a curiously good lemony and slightly sour taste. As an ingredient it predates the lemon in Turkey.
I urge you to grow lots of flat leaf parsley, mint and dill, which are traditional 'warming' herbs, as well as oregano, and sage. There is nothing sadder than a sprig of herbs when a bunch would do. It is positively un-Ottoman. And while most of these recipes specify precise quantities, bear in mind the fate of Empress Eugenie's personal chef.
The French emperor Napoleon III and his empress, Eugenie, spent a week in Istanbul as the Sultan's guests in 1862. The Empress was so taken with a concoction of aubergine puree and lamb that she asked for permission to send her own chef to the kitchens to study the recipe. The request was graciously granted by their host, and the chef duly set off with his scales and notebook. The Sultan's cook slung him out, roaring, An imperial chef cooks with his feelings, his eyes, and his nose!
Lords of the Horizons: A History of the Ottoman Empire.
It is less well known that Sultan Abdulmecid II courteously presented Eugenie with the Ottoman Order of Chastity, third class.
© 2016 All rights reserved. Published by Argonaut Books.