You'll need to weight your bean curd for several hours overnight in the refrigerator to improve its flavor, and to make frying it less hazardous. Drain the bean curd and wrap it in muslin or other plain cloth. Place the wrapped bean curd on a plate or board and arrange it so that this surface stays on a 45-degree angle; I usually set mine to lean against the side of a large bowl or pot. Place another flat plate or board on top of the bean curd, then about 5 pounds of pressure. (Books or potatoes are fine; wrap them in plastic bags to keep them dry.)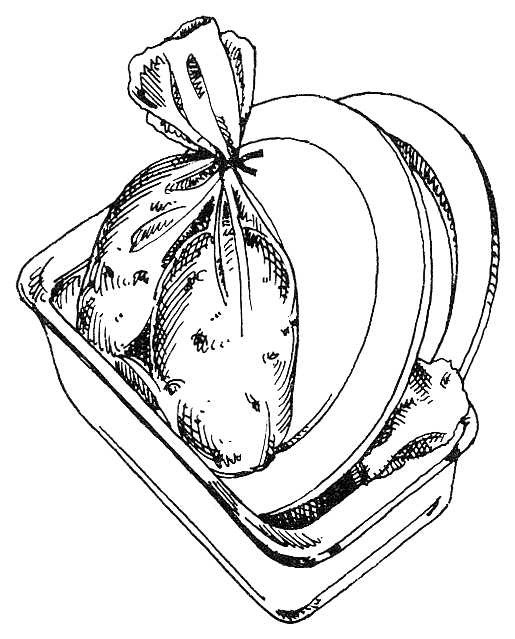 Unwrap the bean curd and pat dry with paper towels. It should appear considerably compressed and weigh several ounces less than when you started, and there should be quite a puddle of liquid in the bowl after the weighting process is complete. Slice the block in half lengthwise, then across three times to yield eight pieces in all. Gently pat dry all newly exposed surfaces. (If you weighted your bean curd overnight in the refrigerator, bring the pieces to room temperature before frying.)
Combine the stock, soy sauces, syrupy rice wine, and sugar in a small saucepan. Stir and heat until bubbling. Remove the sauce from the heat but keep warm.
Peel and grate the radish. Drain off excess liquid before mixing the grated radish with the seven-spice blend. Soak the scallions in cold water for 1 minute, then drain, squeezing lightly to get rid of all excess moisture. Set aside both the radish and the scallions.
Mix the batter just before frying; pour the ice water into a bowl and sift the flour and salt over it. Stir until barely mixed; a few lumps are fine. You'll need several inches of oil for deep frying; a wok or deep skillet is best. Heat your oil to about 375 degrees. A test drop of batter should sink slightly, rise immediately, and puff and sizzle on the surface. Coat each piece of bean curd thoroughly and deep fry two or three pieces at a time, until a pale crisp crust has formed (about 1½ minutes). Turn the pieces once during frying to ensure even coloration. The bean curd is a precooked food so you don't have to be concerned with 'cooking' it again by frying. Drain the fried bean curd on a rack.
Assemble the dishes: Place four blocks of fried bean curd in each of two shallow bowls or deeply flanged plates. Arrange the fried bean curd so that the pieces lay in a single layer. Place a mound of the spicy radish mixture and a sprinkling of scallions in the center of each serving. Ladle the previously made warm sauce over the bean curd. Serve immediately.