You'll need to weight your bean curd for a few hours to improve the flavor. Follow the instructions to do this. You can close your pockets with toothpicks, or, if you wish to make them elaborate looking (as well as enrich their taste), you can tie them with ribbons made of gourd. Soak the gourd in warm water to cover for 10 minutes, then drain, squeezing out excess moisture. Take a pinch of salt and rub it in the gourd to soften the fibers. Rinse away the salt with cold water. Bring a small saucepan of water to a boil and blanch the gourd ribbons for 5 minutes, then drain.
Soak the dried mushrooms in warm water to cover for about 20 minutes or until soft enough to easily slice with a knife. Strain and reserve ½ cup of the soaking liquid. Remove the stems from the mushrooms and save the stems for enriching stock, if you wish, or discard. Rinse the caps under fresh warm water, making sure to remove any sand or dirt that may be clinging to them. Squeeze out excess liquid, mince the mushroom caps, and combine them with the carrot and burdock or parsnip pieces in a bowl along with the firm bean curd.
Bring several cups of water to a boil in a small pot and, one slice at a time, blanch the fried bean curd for 10-15 seconds. This blanching accomplishes two things: It rinses off excess oil and it helps the air trapped inside to expand, allowing greater ease in creating pockets later. Cut each slice in half to make six pieces, each about 2½ inches square. Hold a single square of blanched fried bean curd on your open palm with the cut edge toward your fingertips. With your other hand open, slap down on the fried bean curd, forcing the air out. With your fingertips, carefully pry open the pocket. Use this slap-and-pry technique to open the remaining five pockets. As you work, keep the opened pockets under a damp cloth to keep them from drying out.

Divide the bean-curd and vegetable mixture into six portions and stuff each fried bean-curd pocket with a single portion of this mixture. If you're using gourd ribbons to tie each pocket closed,gather the cut edges together and encircle them once. Each pocket should be finished with either a bow tie or a double knot. If fold the open edges like an envelope you're using toothpicks to close the pockets, fold the open edges like an envelope and thread a tooth pick through to seal.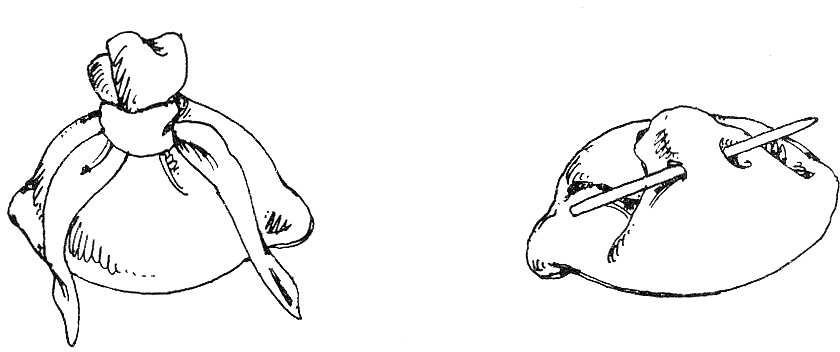 In a shallow pot just wide enough to hold all six pockets in a single layer, combine the simmering broth ingredients. Bring to a boil, stirring, until the sugar is melted. Remove the pot from the heat temporarily to place the pockets, tied or sealed edges up, in the hot liquid. Cook the pockets for 5 minutes, then turn them upside down and continue to simmer for 5 more minutes. The Japanese use a wooden lid, called an otoshi-buta or "dropped lid," that rests on the food itself. This forces the simmering liquid to cook both top and bottom surfaces at once. The simmering liquid reduces and intensifies in flavor while keeping the surface of the cooking foods moist. If you can't find a dropped lid, cook the pockets with an ordinary cover partially askew over slightly higher heat, so that the liquid is simmering vigorously.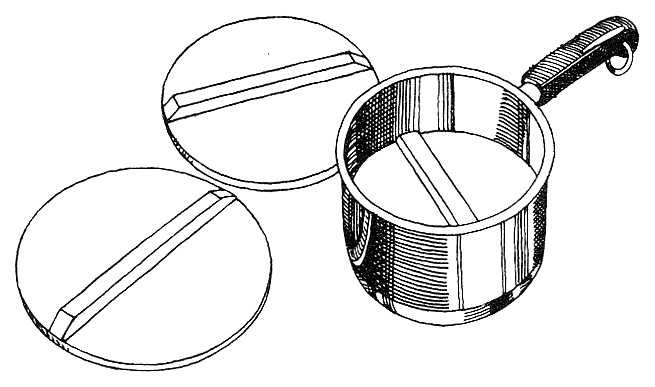 Serve the pockets hot in a shallow bowl or flanged plate with just enough simmering liquid to keep them moist. Three pockets make a single main-course serving.