Appears in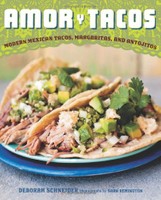 Ingredients
2 teaspoons olive oil
¼ white onion, peeled and diced
1 clove garlic, peeled and chopped
1–2 large chipotle chiles in adobo, roughly chopped
2 tablespoons crushed piloncillo sugar (about 1½ ounces), or firmly packed dark brown sugar
2 Roma tomatoes, cut into eighths
¼ cup water
¼ cup tomato sauce
3–4 teaspoons white vinegar
Kosher salt
Method
Heat the olive oil in a medium sauté pan over medium heat. Add the onion and cook, stirring often, until it is soft but not brown. Add the garlic and cook 1 minute longer.
Add 1 of the chipotles, the piloncillo, and the tomatoes. Cook, stirring often, until the tomatoes are soft and the sugar almost melted, about 3 minutes. Add the water, tomato sauce, 1 tablespoon of the vinegar, and ½ teaspoon salt, and simmer over low heat for 5 minutes. Transfer the sauce to a blender and pulse several times to puree—leave a little bit of texture.
Taste the sauce. If it is too sweet for your taste, add the remaining 1 teaspoon vinegar and another pinch of salt. If you want more heat, add the second chipotle and puree briefly.