Combine the stock, soy sauce, sugar and rice wine in a small saucepan and heat it, stirring, until the sugar dissolves.
The Japanese have a special skillet (oyako nabé, described) they use for making individual round omelets. If you have one of these or another very small skillet, make 4 separate omelets, using 1 egg and 1 cutlet for each, with one-quarter of the seasoned broth. If you are using a 6–8-inch skillet, make 2 omelets with 2 eggs at a time, or if using a larger skillet use all 4 eggs at once.
Slice each cutlet into long, narrow strips and line them up again to re-form the original cutlet shape. Pour the seasoned broth (⅓ cup per egg) into your skillet and bring it to a simmer before carefully placing the cutlet (or cutlets) in it. Beat the egg (or eggs if making multiple omelets) and pour it over the cutlet (or cutlets). Cook over medium heat until the egg is nearly set and sprinkle the coriander or chives over all. The Japanese like their omelets fairly loose, but if you prefer firm ones, cover and cook for another minute or so.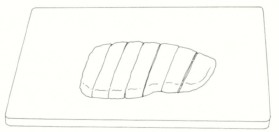 Divide the hot cooked rice among 4 deep bowls. Carefully remove the cutlet omelets from your skillet and place 1 on each bowl of rice. Pour any seasoned broth that may remain in the skillet over the omelets and rice. Serve immediately.