In a saucepan, combine 3 cups cold water with ¼ teaspoon salt and heat it through, stirring to dissolve the salt. Let the brine cool to room temperature, then soak the dried beans in it for 8 hours or overnight. Drain the beans, place them in a saucepan with several cups of fresh cold water, and bring to a boil over moderate heat. Skim off any froth, reduce the heat to maintain a simmer, and cook the beans until they are tender (about 1½–2 hours). Add more water as necessary to keep the beans from sticking and burning. When the beans are done, drain them well.
Soak the dried mushrooms for 20 minutes in ½ cup warm water to which a pinch of sugar has been added. Rinse the mushrooms, remove and discard their stems and dice them. Peel and dice the carrots. Strain the mushroom liquid, reserving ¼ cup of it.
Cut the softened kelp into ¼-inch-wide strips, then across into small squares.
In a saucepan, combine the mushroom liquid, basic stock, soy sauce, sugar and syrupy rice wine, and heat it, stirring, to dissolve the sugar. Add the beans and vegetables and simmer over medium-low heat for 15–20 minutes or until nearly all the liquid has been reduced. For superior flavor, simmer with a dropped lid; if unavailable, ladle the seasoned stock over the cooking beans and vegetables frequently.
Serve warm or at room temperature.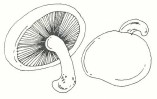 *If not using leftover kelp that is already soft, place dried kelp in a small saucepan with water to cover. Bring the water to a boil, then remove the pot from heat. (By the way, this kelp broth could be used in lieu of the basic dashi stock in this recipe).