Lightly dust the chops in the seasoned flour. Dip them, one at a time, in the egg wash, then coat each of them well with bread crumbs.
There should be at least 1½ inches of oil in your pan and room enough to fry 2 cutlets at once. Heat the oil to approximately 375 degrees F. and test a few bread crumbs, preferably ones with a bit of egg wash clinging to them. The crumbs should sizzle and foam, but not burn, on the surface of the oil. Fry the cutlets, 2 at a time, for about 3 minutes. Turn and fry them for another 3–4 minutes or until golden brown and cooked through.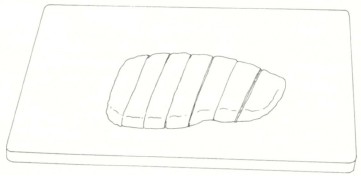 Drain the cutlets on paper towels and slice them across their width into ¼-inch strips (this is primarily for chopstick etiquette). Reassemble each cutlet, leaning it against its own small mound of shredded cabbage. Serve tonkatsu sōsu in a pitcher, to be poured to taste by each person.