Pat dry the cleaned shrimp with paper towels and coarsely chop it before feeding it into a food processor, hand grinder or other mechanical device for chopping food fine. Or be more traditional and mash the chopped shrimp in a suribachi to a thick paste.
Season the shrimp with the minced ginger and rice wine, then sprinkle ½ teaspoon of cornstarch over all. Let it stand a few seconds, then stir it in before adding the egg white. Mix the paste well and chill it while you cut the eggplants.
Trim the tips of the eggplants before cutting each in half lengthwise. Trim off the rounded uncut sides of each piece (save one of these for testing the temperature of the oil), then slit each lengthwise to within 1 inch of the stem. Carefully open and dust the inside with cornstarch. Score top and bottom of each piece with shallow strokes. Stuff the eggplants with some of the shrimp paste and lightly dust the outside of each stuffed end with more cornstarch.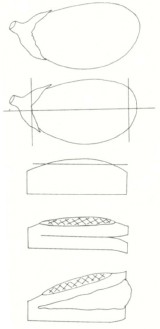 Heat your oil to approximately 350 degrees F. (a sliver of eggplant will float on the surface, the oil bubbling) and fry the stuffed eggplants 3 or 4 at a time, skin side down. Fry for about 5–6 minutes, turning the eggplants several times. Drain well on paper towels and serve hot with lemon or lime wedges. Provide each person with a small dish of soy sauce for dipping.