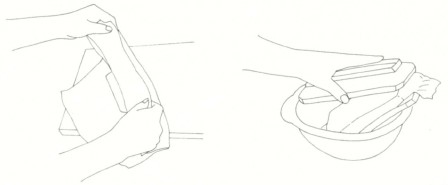 Lift the bean curd out of its storage liquid and wrap it tightly in a kitchen towel. Then place the wrapped bean curd on a flat surface at an angle in a bowl, and place a light weight (several ounces) on top. Let it drain for at least 3–4 hours and up to 12 hours. Remove the bean curd (much firmer now that excess liquid has been pressed out of it) and place it in a clean, dry towel. Gather up the edges of the towel to form a bag and gently squeeze it, mashing the bean curd as you do so.
Empty the mashed bean curd into a bowl and add the chopped vegetables and roasted sesame seeds. Hand mix well and knead for a few minutes. Sprinkle a pinch of salt over the mixture and mix it in, then add the glutinous yam or egg white to bind it all together. Continue to knead for another minute or so, then lightly oil your hands and form 12 patties from the mixture.
In several batches, deep fry the patties at medium-low (300–325 degrees F.) temperature for 2–3 minutes or until they float on the surface, well puffed. Flip them over and continue to fry for another few minutes until golden. Drain the patties well on paper towels and/or a rack.
In a saucepan, combine the simmering stock ingredients and bring to a boil, stirring until the sugar is melted. Add the fried patties and lower the heat to maintain a steady simmer. For best results, simmer with a dropped lid, or turn the patties several times so that all surfaces have a chance to absorb the seasoned stock. Cook for 5–6 minutes, or until the stock has been reduced by half. Serve warm or at room temperature, with a bit of stock ladled over the patties.