Appears in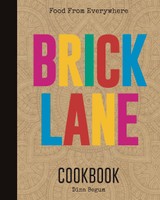 Café 1001 91 Brick Lane
There's a whole host of flavours and textures here, which makes it great as a standalone main or as part of a sharing platter. Cauliflower florets are roasted until just browned but still crunchy, then tossed in a sweet yet tart and punchy dressing. It's a real show stopper but does require a little prepping, so give yourself time to enjoy making it.
Ingredients
For the Dressing
2 ½ tablespoons pomegranate molasses
1 teaspoon red wine vinegar
¼ garlic clove, crushed
¼ teaspoon Dijon mustard
¼ teaspoon sugar
⅛ teaspoon salt
110 ml olive oil squeeze of lemon juice
For the Salad
1 pomegranate
100g hazelnuts
1 large cauliflower
1 tablespoon olive oil
½ stick of celery, chopped into 1 cm cubes
3 tablespoons chopped fresh parsley
salt
black pepper
To make the dressing, whisk together the pomegranate molasses, vinegar, garlic, mustard, sugar and salt. Still whisking, slowly add the oil to create an emulsion. Mix in a squeeze of lemon juice and set aside. Peel the pomegranate and pluck out the jewel-like seeds. Put them in a bowl and pick off any pith.
Preheat your oven to 180°C (160°C fan). Place the hazelnuts on a tray and roast for seven minutes. Remove and leave to cool a bit before rolling them with your palms to remove the papery skin. Lightly crush the nuts with the flat of a knife or roughly chop. Increase the oven temperature to 220°C (200°C fan). Break the cauliflower into florets, setting aside the stalks. Toss the florets in the olive oil, season with salt and black pepper and put on a baking tray. Bake for five minutes or until golden brown. Grate the reserved cauliflower stalks.
Combine the roasted cauliflower with the pomegranate seeds, crushed hazelnuts, grated cauliflower stalks and chopped celery. Toss with the dressing and chopped parsley and serve.
© 2018 All rights reserved. Published by Kitchen Press.