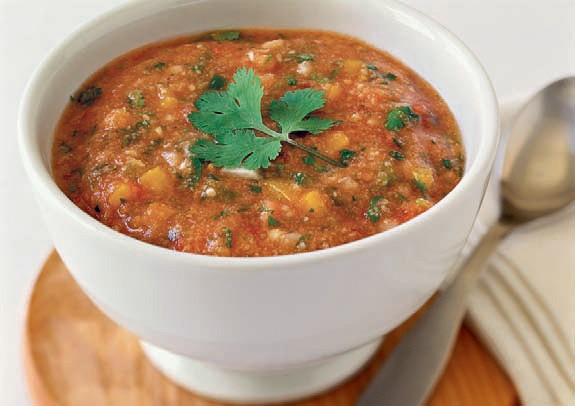 Appears in

Ingredients
1 kg (2 lb 4 oz) ripe tomatoes
2 slices day-old white Italian bread, crusts removed, broken into pieces
1 red capsicum (pepper), seeded and chopped
2 garlic cloves, chopped
1 small green chilli, chopped (optional)
1 teaspoon sugar
2 tablespoons red wine vinegar
2 tablespoons extra virgin olive oil
8 ice cubes
Method
To peel the tomatoes, score a cross in the base of each tomato. Put in a heatproof bowl and cover with boiling water. Leave for 30 seconds, then transfer to cold water and peel the skin away from the cross. Cut in half and scoop out the seeds. Roughly chop the flesh.
Soak the bread in cold water for 5 minutes, then squeeze out the water. Put the bread in a food processor with the tomato, capsicum, garlic, chilli, sugar and vinegar, and process until smooth.
With the motor running, add the oil to make a smooth mixture. Season well. Refrigerate for at least 2 hours. Serve in bowls with the ice cubes.