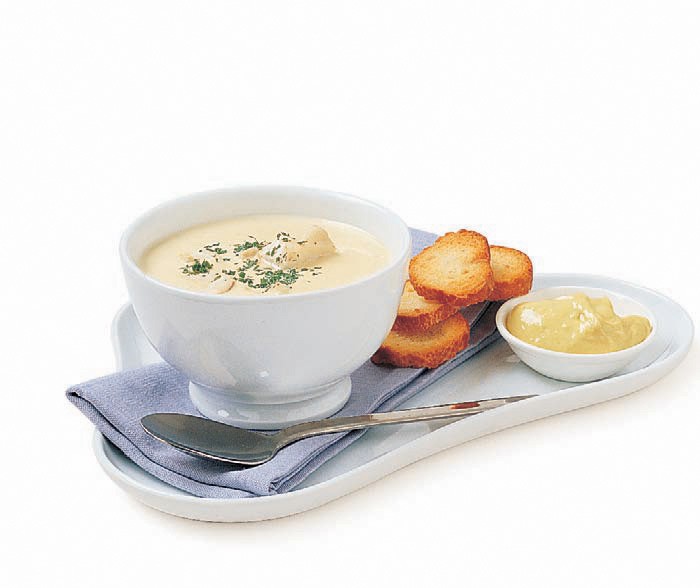 Appears in

Ingredients
Garlic Croutons
½ day-old baguette, sliced
60 ml (2 fl oz/1¼ cup) olive oil
1 garlic clove, halved
¼ teaspoon saffron threads
1 litre (35 fl oz/4 cups) dry white wine
1 leek, white part only, chopped
2 carrots, peeled and chopped
2 onions, chopped
2 long pieces orange zest
2 teaspoons fennel seeds
3 thyme sprigs
2.5 kg (5 lb 8 oz) whole firm white fish such as monkfish, sea bass, cod, perch, sole or bream, filleted, skinned and cut into 4 cm (1½ inch) pieces (reserve the trimmings)
1 quantity aïoli
3 egg yolks
Method
Preheat the oven to 160°C (315°F/Gas 2–3). To make the garlic croutons, brush the bread with oil and bake for 10 minutes until crisp. Rub one side of each slice with garlic.
To make the stock, combine the safron and 1 tablespoon of hot water in a bowl. Set aside for 15 minutes. Put the saffron and its soaking water, wine, leek, carrot, onion, orange zest, fennel seeds, thyme and fish trimmings in a large saucepan with 1 litre (35 fl oz/4 cups) water. Cover and bring to the boil, then simmer for 20 minutes, skimming occasionally. Strain into a clean saucepan, pressing the solids with a wooden spoon to extract all the liquid.
Bring the stock to a gentle simmer, add half the fish pieces and poach for 5 minutes. Remove with a slotted spoon and keep warm while you cook the rest of the fish. Remove the fish from the pan and return the stock to the boil. Boil for 5 minutes, or until slightly reduced. Remove from the heat.
Put half the aïoli and the egg yolks in a bowl and mix until smooth. Whisk in a ladleful of hot stock, then gradually add five ladlefuls, stirring constantly. Pour back into the pan holding the rest of the stock and whisk over low heat for 3–5 minutes, or until the soup is hot and slightly thicker (don't let it boil or it will curdle). Season with salt and pepper.
To serve, put two garlic croutons in each bowl, top with a few pieces of fish and ladle over the hot soup. Serve the remaining aïoli separately.