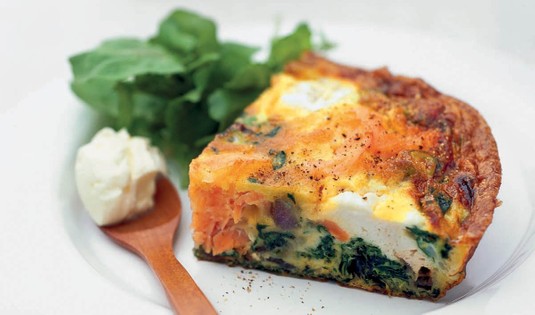 Appears in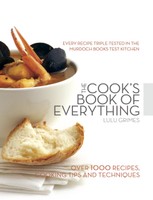 Ingredients
2 red onions, cut into 5 mm (¼ inch) slices
2 tablespoons olive oil
150 g (5½ oz) baby English spinach leaves
8 eggs
2 spring onions (scallions), finely chopped
200 g (7 oz) sliced smoked salmon
100 g (3½ oz) ricotta cheese
Method
Preheat the grill (broiler) to high. Spread the onion on a lightly greased tray, lightly brush the onion with a little oil and cook for 2–3 minutes, until browned. Flip the onion over, brush with a little more oil and grill for 2–3 minutes. Remove from the tray and set aside. Turn the grill down to medium.
Blanch the spinach in a pan of boiling water for 30 seconds. Drain, refresh in cold water, then squeeze out any liquid. Chop the leaves.
Beat the eggs in a bowl, season, then stir in the spinach and onion. Heat the remaining oil in a 20 cm (8 inch) non-stick frying pan, add the spring onion and sauté over medium heat for 1 minute, until soft. Stir the spring onion through the egg, then pour the mixture into the pan. Arrange the salmon and ricotta over the frittata.
Cook the frittata on the stovetop over medium heat for 10 minutes, moving the pan around over the heat. When the frittata is half cooked, put the pan under the grill and cook for a further 5–10 minutes, or until the top is golden brown and the frittata is cooked through. If it starts to brown too quickly, cover it with a piece of foil.
Turn out onto a plate and cut into wedges. This is good with sour cream on the side.