Appears in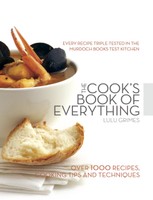 Ingredients
2 kg (4 lb 8 oz) piece roasting beef (scotch fillet, rump or sirloin)
2 garlic cloves, crushed
Method
Preheat the oven to 240°C (475°F/Gas 8). Rub the beef with the crushed garlic and some black pepper and drizzle with oil. Bake on a rack in a roasting tin for 20 minutes.
To make the Yorkshire puddings, sift the flour and ½ teaspoon salt into a large bowl, make a well in the centre and whisk in the milk. Whisk the eggs until fluffy, then add to the batter and mix well. Add 125 ml (4 fl oz/½ cup) water and whisk until large bubbles form on the surface. Cover the bowl with plastic wrap and refrigerate for 1 hour.
Reduce the oven to 180°C (350°F/Gas 4) and roast the meat for another 1 hour for rare, or longer for well done. Lift out onto a carving tray, cover with foil and leave in a warm place while making the puddings.
Increase the oven to 220°C (425°F/Gas 7). Spoon ½ teaspoon of the pan juices into each of twelve 80 ml (2½ fl oz//3 cup) patty pan or muffin holes. (Keep the rest of the pan juices for making gravy.) Heat the muffin tin in the oven until the fat is almost smoking. Whisk the batter again until bubbles form on the surface. Fill each muffin hole about three-quarters full. Bake for 20 minutes, or until puffed and lightly golden.
Meanwhile, make the gravy. Heat the pan juices in the roasting tin on the stovetop over low heat (you should have about 2 tablespoons of pan juices). Add the flour and stir well, scraping up all the bits from the bottom of the tin. Cook over medium heat for 1–2 minutes, stirring constantly, until the flour is well browned. Remove from the heat and gradually stir in the wine and stock. Return to the heat, stirring constantly, until the gravy boils and thickens. Simmer for 3 minutes, then season with salt and black pepper. Serve the beef with the hot Yorkshire puddings and the red wine gravy.