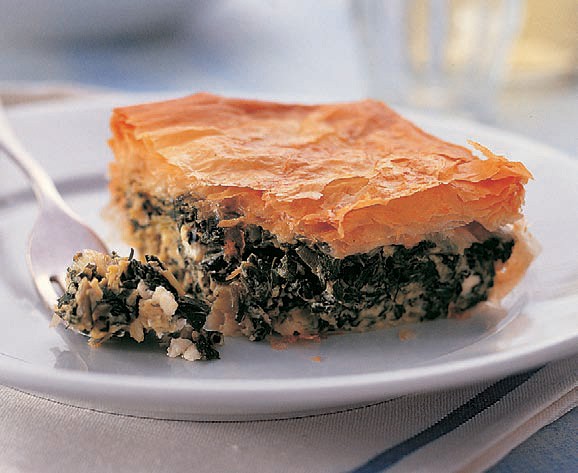 Appears in

Ingredients
1.5 kg (3 lb 5 oz) silverbeet (Swiss chard)
60 ml (2 fl oz/¼ cup) olive oil
1 onion, finely chopped
10 spring onions (scallions), chopped (include some of the green part)
1½ tablespoons chopped dill
200 g (7 oz/1⅓ cups) crumbled Greek feta cheese
125 g (4½ oz/½ cup) cottage cheese
3 tablespoons finely grated kefalotyri or pecorino cheese
¼ teaspoon ground nutmeg
4 eggs, lightly beaten
10 sheets filo pastry
80 g (2¾ oz) butter, melted
Method
Rinse and drain the silverbeet thoroughly. Discard the stems and shred the leaves. Heat the olive oil in a large frying pan, add the onion and cook, stirring, over a medium heat for 5 minutes, or until softened. Add the spring onion and silverbeet and cook, covered, over medium heat for 5 minutes. Add the dill and cook, uncovered, for 3–4 minutes, or until most of the liquid has evaporated. Remove from the heat and cool to room temperature.
Preheat the oven to 180°C (350°F/Gas 4) and lightly grease a 20 × 25 cm (8 × 10 inch) 2.5 litre (10 cup) baking dish. Place the feta, cottage and kefalotyri cheeses in a large bowl. Stir in the silverbeet mixture and add the nutmeg. Gradually add the eggs and combine well. Season, to taste.
Line the base and sides of the baking dish with a sheet of filo pastry. (Keep the rest covered with a damp tea towel to prevent them drying out.) Brush with butter and cover with another sheet of filo. Butter the sheet and repeat in this way, using five sheets of pastry. Spoon the filling into the dish and level the surface. Fold the exposed pastry up and over to cover the top of the filling. Cover with a sheet of pastry, brush with butter and continue until all the sheets are used. Roughly trim the pastry with kitchen scissors then tuck the excess inside the wall of the dish.
Brush the top with butter. Using a sharp knife, score the surface into squares. Sprinkle a few drops of cold water on top to discourage the pastry from curling. Bake for 45 minutes, or until puffed and golden. Rest at room temperature for 10 minutes before serving.