Appears in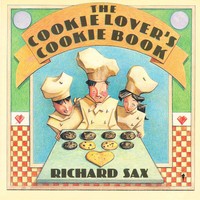 Ingredients
½ cup (1 stick) unsalted butter, softened
1 cup sugar
2 eggs
½ cup sour cream
1 cup all-purpose flour
1 cup whole wheat flour
2 teaspoons baking powder
½ teaspoon baking soda
1 teaspoon ground allspice
1 cup chopped walnuts
2 cups chopped pitted dates (1 pound)
Method
Preheat the oven to 350°F. Butter two cookie sheets; set aside.
Cream the butter and sugar in an electric mixer at medium speed until light, about 3 minutes. Add the eggs, one at a time, and then the sour cream, beating until the mixture is smooth.
Meanwhile, sift together both flours, the baking powder, baking soda, and allspice on a sheet of wax paper. Lower the mixer speed and gradually add the dry mixture to the butter until blended; do not overbeat. Stir in the walnuts and the dates.
Drop the mixture by rounded tablespoonfuls onto the cookie sheets, spacing them 1½ inches apart. Bake until lightly browned, 15 to 17 minutes. Transfer the cookies to a wire rack to cool. Cool completely before storing in an airtight container, with wax paper between the layers.