Appears in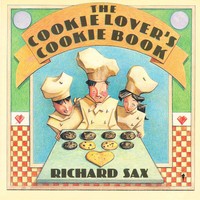 Ingredients
1¼ cups coarse-chopped pecans (about 4½ ounces)
2 ounces uisweetened chocolate, chopped coarse
½ cup (1 stick) unsalted butter, cut in pieces
2 eggs
1 cup sugar
1 teaspoon pure vanilla extract
⅔ cup flour
½ teaspoon baking powder
Pinch of salt
ounces semisweet chocolate, cut in coarse chunks (or substitute ⅔ cup semisweet chocolate morsels)
Method
Preheat the oven to 350°F. Lightly butter an 8-inch square baking pan; set aside. Toast the chopped pecans on a baking sheet until fragrant and lightly colored, about 7 minutes. Set aside to cool slightly.
Place the unsweetened chocolate and butter in a heavy saucepan and melt over low heat, stirring occasionally. Set aside to cool slightly.
In an electric mixer with the whisk attachment, whisk the eggs at medium speed until light and frothy, about 3 minutes. Gradually add the sugar, beating constantly. When all the sugar has been added, add the vanilla; then remove the bowl from the machine.
Meanwhile, sift the flour, baking powder, and salt onto a sheet of wax paper; set aside. When the egg-sugar mixture is ready, gently fold in the melted chocolate mixture with a large rubber spatula—don't incorporate it completely; there should still be a few streaks of chocolate visible. Now gently fold in the flour mixture. When that's not quite incorporated (just a couple of streaks of flour still showing), fold in the toasted pecans and the chocolate just until everything is well blended, no longer. Transfer the batter to the prepared pan, smoothing it gently to the edges of the pan.
Bake 25 minutes—the top should be dry, but a toothpick inserted in the center will emerge with some traces of melted chocolate. Place the pan on a rack and cool completely. Don't try to cut brownies when warm. When cool, cut into 32 bars.