Appears in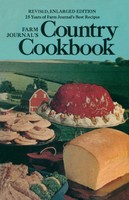 Yellow and white ribbon cake with fresh lemon taste—good make-ahead
Ingredients
1 (9 or 10″) angel food cake
1 envelope unflavored gelatin
1½ c. sugar
4 tblsp. cornstarch
⅛ tsp. salt
⅓ c. water
2 egg yolks, beaten
2 tblsp. butter or regular margarine
¼ tsp. grated lemon peel
⅓ c. fresh lemon juice
½ c. dairy sour cream
½ c. chopped nuts
Method
Cut cool cake in 3 equal layers.
Combine gelatin with ¼ c. sugar and set aside.
Combine remaining 1¼ c. sugar, cornstarch and salt. Add water; cook over low heat, stirring constantly, until mixture thickens and boils. Stir ½ c. hot mixture into egg yolks; stir this back into hot mixture. Return to heat and cook 1 minute, stirring constantly.
Remove from heat and add gelatin-sugar mixture. Stir until gelatin dissolves; stir in butter. Continue to stir until mixture starts to set but is still "soupy." Add lemon juice and peel; fold in sour cream and nuts. Cool. Spread between layers of cake. Frost top and sides of cake with Lemon Fluff Frosting, tinted yellow.
© 1972 All rights reserved. Published by Farm Journal.