Appears in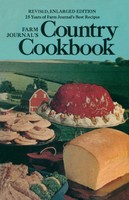 Ingredients
¾ c. sifted cake flour
¼ c. cocoa
¼ tsp. salt
1¼ c. egg whites (10 to 12 eggs)
1 tsp. cream of tartar
1¼ c. sifted sugar
1 tsp. vanilla
Method
Sift flour and cocoa together 4 times.
Add salt to egg whites. Beat until frothy. Add cream of tartar. Beat until stiff peaks form.
Fold sugar into whites, ¼ c. at a time. Add vanilla. Fold in flour mixture, 2 tblsp. at a time.
Pour batter into ungreased 10" tube pan. Bake in moderate oven (375°) 1 hour.
Invert pan and let cake cool in pan on rack about 1 hour before taking it out to be frosted. Remove any loose cake crumbs, so frosting will go on smoothly. Frost with Orange/Cheese Frosting.