Appears in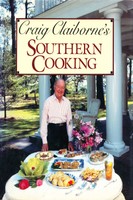 Ingredients
1¼ pounds spinach in bulk, or 1½ packages (10 ounces each) spinach in plastic
2 tablespoons butter
1½ tablespoons flour
1 cup milk
Salt to taste, if desired
Freshly ground black pepper to taste
Pinch of freshly grated nutmeg
Pinch of cayenne pepper
Method
Pick over the spinach and discard any tough stems or blemished leaves. Rinse well and drain.
Bring about 4 cups water to the boil in a saucepan and add the spinach. Let it cook about 2 minutes and drain, pressing or squeezing to extract as much liquid as possible from the leaves.
Heatl tablespoon butter in a saucepan and add the flour, stirring with a wire whisk. When blended, add the milk, stirring vigorously with the whisk. Add the salt, pepper, nutmeg, and cayenne pepper. Cook, stirring, until the mixture is thickened and smooth.
Put the spinach into the container of a food processor or electric blender and blend thoroughly, stirring down as necessary. There should be about 1 cup.
Put the spinach in the sauce and stir to blend. Bring to the simmer and swirl in the remaining 1 tablespoon butter.