Appears in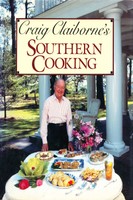 Ingredients
1¾ pounds skinless, boneless fish fillets, such as weakfish, grouper, sea bass, cod, red snapper, or hake
6 tablespoons butter
1 onion, quartered and thinly sliced (about 1 cup)
1 teaspoon chopped garlic
3 cups chopped sweet green and red peppers
Salt to taste, if desired
Freshly ground pepper
2 cups imported peeled tomatoes, preferably with tomato paste and basil
2 tablespoons capers
Tabasco sauce to taste
¼ cup finely chopped parsley
Method
Preheat the oven to 450 degrees.
Cut the fish into 6 individual serving pieces and set aside.
Melt 3 tablespoons butter in a saucepan and add the onion. Cook, stirring, until wilted and add the garlic and sweet peppers. Sprinkle with salt and pepper to taste. Toss well and add the tomatoes, capers, Tabasco, and parsley. Cover and cook 15 minutes. Uncover and cook 5 minutes longer.
Rub a baking dish with 1 tablespoon butter and sprinkle with salt and pepper. Add the fish pieces and dot with the remaining 2 tablespoons butter. Spoon the sauce over and bake 15 minutes.