Appears in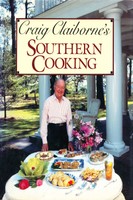 Ingredients
2 fish fillets (about ½ pound each)
4 tablespoons butter
Salt, if desired
Freshly ground pepper
½ cup fresh bread crumbs
½ teaspoon paprika
Lemon wedges for garnish
Parsley sprigs for garnish
Method
Preheat the broiler to high.
Select a baking dish just large enough to hold the fish fillets in one layer. Grease the bottom of the dish with 1 tablespoon butter. Sprinkle it with salt and pepper.
Arrange the fillets, skin side down, on the dish and sprinkle with salt and pepper to taste.
Scatter the bread crumbs on a piece of wax paper. Hold a small sieve over the crumbs. Put the paprika through the sieve and blend paprika and crumbs. Sprinkle the fish fillets with the crumbs. Melt the remaining 3 tablespoons butter and dribble over all. Broil about 6 inches from the source of heat until golden brown. Turn the oven heat to 400 degrees and bake 10 minutes. Garnish with lemon wedges and parsley sprigs.