Appears in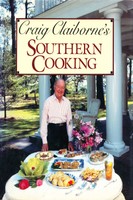 Ingredients
1½ pounds eggplant
Flour for dredging
Salt to taste, if desired
Freshly ground pepper to taste
½ cup olive oil, approximately
24 raw shrimp, shelled and deveined
2 cups Tomato Sauce with Mushrooms
1 teaspoon dried oregano
Juice of 1 lemon
Method
Preheat the oven to 400 degrees.
Cut the eggplant into 12 slices, each about ¾ inch thick. Pare each slice into a round about 3 inches in diameter.
Dredge the slices on all sides in flour seasoned with salt and pepper.
Heat about ¼ cup olive oil in a heavy skillet, and when it is hot and almost smoking, add the eggplant slices. Cook quickly until golden on one side, and turn to brown the other side. It may be necessary to add a little more oil to prevent burning or sticking. Drain the slices and continue cooking the remaining slices.
Arrange the slices in one layer in a baking dish. Arrange 2 shrimp on each slice and spoon equal amounts of tomato sauce over the shrimp. Sprinkle with the oregano, lemon juice, and ¼ cup additional olive oil.
Bake 30 minutes and serve piping hot.