Appears in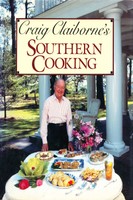 Ingredients
1 chicken (2½ to 3 pounds), cut into serving pieces
Milk to cover
¼ teaspoon Tabasco sauce
1 cup flour
1½ to 2 teaspoons salt, if desired
2 teaspoons Freshly ground black pepper
1 pound lard, or 2 cups corn oil
¼ pound butter
Method
Put the chicken pieces in a bowl and add milk to cover. Add the Tabasco sauce and stir. Refrigerate 1 hour or longer.
Combine the flour, salt, and pepper (the flavor of pepper in this recipe is important) in a flat baking dish. Blend well.
Remove the chicken pieces, 2 or 3 at a time, and dip them into the flour mixture, turning them in the flour to coat well.
Heat the lard and butter in a skillet, preferably a black iron skillet large enough to hold the chicken pieces in one layer without touching, over high heat. Add the chicken pieces, skin side down, and cook until golden brown on one side. Turn the pieces and reduce the heat to medium-low. Continue cooking until pieces are golden brown and cooked through. The total cooking time should be 20 to 30 minutes. As the pieces are cooked, transfer them to paper towels to drain.