Appears in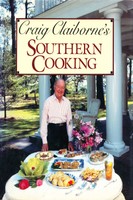 Ingredients
7 cups crumbled Jalapeño Corn Bread
4 cups toast cubes
3 hard-cooked eggs, chopped
4 tablespoons unsalted butter
2 cups finely chopped onions
1 teaspoon finely minced garlic
1½ cups finely chopped sweet green peppers
1 cup finely chopped celery
Turkey gizzard, trimmed and finely chopped
Turkey liver, chopped
Turkey heart, chopped
Salt to taste, if desired
Freshly ground pepper to taste
3 eggs, lightly beaten
½ cup turkey or chicken broth, approximately
Method
Combine the corn bread, toast cubes, and chopped eggs in a large bowl and toss lightly to mix well. Set aside.
Melt the butter in a large skillet over medium heat. Add the onions and garlic and sauté until softened. Add the green peppers and celery and cook until crisp-tender, about 3 minutes. Add the gizzard, liver, and heart and sauté just until they lose their raw color. Season with salt and a generous grinding of pepper. Let cool slightly.
Add the onion mixture to the corn bread mixture and blend well. Stir in the beaten eggs. Blend in enough broth to moisten lightly.