Appears in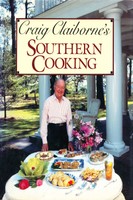 Ingredients
1 wild turkey (about 13 pounds, cleaned weight)
Salt to taste, if desired
Freshly ground pepper to taste
1 onion, peeled and cut into quarters
2 celery ribs, cut crosswise in half
½ pound salt pork, cut lengthwise into thin slices
2 celery ribs, left whole
1 cup thinly sliced carrot rounds
1½ cups thinly sliced onions
¼ cup coarsely chopped parsley
2 bay leaves
3 sage leaves, or ½ teaspoon dried
4 sprigs fresh thyme, or ½ teaspoon dried
6½ cups Chicken Stock, or canned chicken broth or beef broth
Method
Preheat the oven to 475 degrees.
Sprinkle the turkey inside and out with salt and pepper. Put the quartered onion and halved celery ribs inside the cavity of the turkey.
Place the turkey, breast side up, in a roasting pan. Cover the top of the turkey with slices of salt pork.
Place the turkey in the oven and bake about 30 minutes. Rotate the pan occasionally as the turkey bakes.
Scatter the whole celery ribs, carrot rounds, sliced onions, parsley, bay leaves, sage, and thyme around the turkey. Pour the stock around the turkey. Cover the roasting pan and continue cooking 1 hour.
Reduce the oven heat to 350 degrees. Continue cooking, basting often, about 1 hour more.