Appears in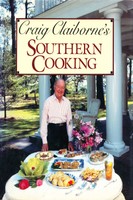 Ingredients
The Quail
12 quail, main body bones and wings removed but with leg and thigh bones intact (about 3 pounds ready-to-cook weight)
Freshly ground pepper to taste
6 slices bacon, each cut crosswise in half
¼ cup olive oil
1 tablespoon balsamic vinegar
1 tablespoon finely minced fresh thyme
The Oyster Sauce
1 tablespoon butter
¼ cup finely chopped country ham or prosciutto
¼ cup finely minced leeks
2 cups heavy cream
2 tablespoons finely chopped pimiento
1 cup (1 half-pint) small oysters, drained
Method
Preheat the oven to 475 degrees.
Sprinkle the quail inside and out with freshly ground pepper and arrange them breast side up on a baking sheet. Wrap each quail around the breast portion with half a slice of bacon.
Blend the oil, vinegar, and thyme and spoon equal amounts of the sauce over each quail. Place in the oven and bake 13 to 15 minutes. Place under the broiler briefly to crisp the bacon.
To prepare the oyster sauce, heat the butter in a heavy skillet or casserole and add the prosciutto and leeks. Cook about 1 minute, stirring, and add the cream and pimiento. Cook over relatively high heat about 10 minutes, or until reduced to about 1 cup.
Put the oysters in a small skillet and cook over moderately high heat, shaking the skillet briefly until the oysters just start to bubble. Take care not to overcook the oysters or they will toughen. Drain the oysters and add them to the sauce. Spoon the sauce over the quail and serve immediately.