Appears in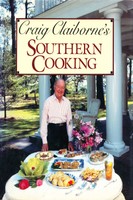 Ingredients
1 or 2 apples, preferably Granny Smith (about ¾ pound)
1 tablespoon honey
6 sprigs fresh thyme
2 cups Chicken Stock
1 tablespoon butter
Method
Cut the apple or apples into quarters but do not peel. Cut away the cores. Cut each quarter into thin crosswise slices. There should be about 3 cups.
Heat the honey in a heavy saucepan and cook, shaking the skillet in a flat, circular motion, until the honey takes on the color of dark caramel. Do not burn. Add the thyme and apple slices and cook, shaking the skillet and stirring the apple slices, about 2 minutes, until the apple slices are well coated.
Add the stock and cook about 15 minutes. Strain through a sieve, pressing with a wooden spoon or rubber spatula to extract as much of the apple as possible. Reheat the sauce. Just before serving, swirl in the butter.