Appears in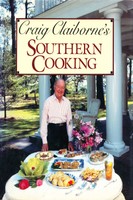 Ingredients
1 cured Smithfield, Virginia, or country ham (14 to 16 pounds)
40 to 60 whole cloves
½ cup brown sugar
Method
Place the ham in a large kettle or roasting pan and add cold water to cover. Soak overnight. The water should be changed often to get rid of excess salt.
Preheat the oven to 300 degrees.
Drain the ham and trim or scrape off all mold on the "face" side (this is opposite the skin side).
It is not essential, but you will facilitate carving the ham after cooking if you run a boning or other knife around the contours of the hipbone on the underside of the ham. Run the knife down deep around the bone, but do not remove the bone at this time. It will be removed after cooking.
Place the ham in a roaster with 10 cups water and cover closely with a lid or heavy-duty aluminum foil. Place in the oven and bake 20 to 23 minutes to the pound. Remove the ham from the oven, leaving the heat on.
Using the fingers, pull against the hipbone that was carved around earlier. Run the carving knife around the bone and pull with the fingers to remove it.
Increase the oven heat to 425 degrees.
Slice away the skin from the ham, leaving a thick layer of fat. Using a sharp knife, score the ham at 1-inch intervals, making a diamond-shaped pattern. Stud the fat with cloves. Sprinkle the surface with the brown sugar and bake 15 minutes.