Preparation info
Yield:

12 or More

Servings.
Appears in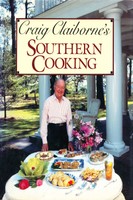 Ingredients
2 quarts Marinade for Game, approximately (see following recipe)
5 pounds shoulder of venison, cut into 2-inch cubes
2 to 4 tablespoons peanut, vegetable, or corn oil
¼ cup flour
Salt to taste, if desired
Freshly ground pepper to taste
4 tablespoons currant jelly
⅓ pound lean salt pork
10 small white onions
1 teaspoon butter
1 teaspoon sugar
½ pound mushrooms, thinly sliced
Method
Prepare the marinade and add the venison pieces. Stir and cover with foil. Refrigerate 4 or 5 days, no longer.
Preheat the oven to 400 degrees.
Remove the meat from the marinade and set it aside. Strain the marinade, reserving the solids and the liquid. There should be about 4 cups liquid.
Heat 2 tablespoons oil in a medium-size skillet. Brown one-third of the meat at a time. As the meat is browned, transfer it to a kettle. Use more oil as necessary to cook the meat. The total time for browning the meat should be about 10 minutes.
Add a little more oil to the skillet and cook the reserved solids over high heat about 5 minutes. Add this to the meat.
Sprinkle the flour over all and stir to coat the pieces more or less evenly. Cook about 3 minutes and add the reserved liquid. Add salt and pepper to taste. Bring to the boil and cover. Place the kettle in the oven and bake 2 hours.
Remove from the oven, tilt the kettle, and skim off the excess fat from the surface. Add the jelly and stir until dissolved. Simmer 5 minutes on top of the stove.
Meanwhile, cut the salt pork into matchlike sticks. Put them in a saucepan, cover with water, and bring to the boil. Simmer 1 minute and drain.
Peel the onions and combine them in a saucepan with water to barely cover, salt to taste, the butter and sugar. Cook until the liquid evaporates and the onions start to take on a brown glaze.
Heat a skillet and add the pieces of salt pork. When crisp, remove the pieces with a slotted spoon and set aside. Add the mushrooms to the rendered salt pork fat. Sprinkle with salt and pepper to taste and cook, stirring as necessary, about 10 minutes. Drain well and set aside.
Add the onions to a skillet and add the salt pork and mushrooms. Cook briefly, about 5 minutes. Sprinkle this mixture over the venison and cook 10 minutes.
Serve with buttered fine noodles.