Preparation info
Yield:

16

or More Servings.
Appears in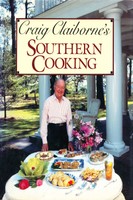 Ingredients
2 pounds dried black-eyed peas
½ pound slab of lean bacon, cut into ¼-inch cubes (about 2 cups)
1 sweet green or red pepper, finely chopped (about ¾ cup)
½ cup finely chopped onion
½ cup finely chopped celery
2 teaspoons red wine vinegar
3½ cups Chicken Stock
Salt to taste, if desired
Freshly ground pepper to taste
2 dried hot red peppers, crumbled
6 to 7 cups water, approximately
Method
Rinse the peas and drain.
Put the bacon in a heavy kettle and cook, stirring, until rendered of fat and browned. Add the chopped sweet pepper, onion, and celery and cook, stirring, until wilted.
Add the peas, vinegar, stock, salt, pepper, and dried hot peppers. Bring to the boil. Cover closely and let simmer about 1 hour.
Add 6 cups water and return to the boil. Let simmer about 1 hour, stirring occasionally from the bottom. Check the peas and, if necessary, add more water. Continue cooking 30 minutes. The total cooking time is 2½ hours or longer.