Appears in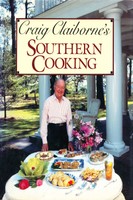 Ingredients
2 butternut squash (about 1½ pounds each)
3 tablespoons butter
¼ cup brown sugar
1 teaspoon powdered ginger
1 package (10 ounces) frozen small green peas
2 teaspoons chopped fresh mint, or 1 teaspoon dried
Salt to taste, if desired
Freshly ground pepper to taste
Method
Preheat the oven to 275 degrees.
Split the squash, lengthwise or crosswise, in half. Scrape out and discard the seeds. Cut off a thin slice from the bottom of each half so that it will rest firmly upright in a pan.
Melt 2 tablespoons butter and brush the rims and cavity of each squash with it.
Blend the sugar and ginger, and sprinkle each half, rim and cavity, with equal portions of the mixture. Arrange the halves on a baking sheet and bake 1 hour.
Meanwhile, put the peas into a sieve and run hot water over them for 15 seconds, or until defrosted. Put the peas in a small skillet. Add remaining 1 tablespoon butter, mint, salt, and pepper. Cook briefly until heated through. Do not overcook.
Fill the squash halves with the peas and serve immediately.