Appears in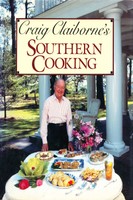 Ingredients
4½ pounds collard greens (about 3 bunches)
6 cups ham hock liquid (see following recipe for Ham Hock Seasoning)
1 ham hock (2 pieces; see following recipe for Ham Hock Seasoning)
½ cup bacon fat drippings
Salt to taste, if desired
Freshly ground pepper to taste
¾ teaspoon sugar
Method
Cut off the bottoms of the stems of each bunch of greens 4 or 5 inches from the base. Break and pull off any remaining stems that may seem tough to the touch. Discard any blemished or yellow leaves.
Gather the leaves into small bunches and roughly cut. There should be about 36 cups, loosely packed. Rinse and drain thoroughly without patting dry.
Put the greens in a kettle and add the ham hock liquid, ham hock, bacon fat, salt, and pepper. Bring to the boil. Cover and cook about 1 hour. Add the sugar and continue cooking, covered, 45 minutes to 1 hour.