Appears in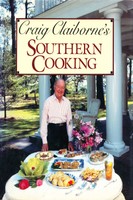 Ingredients
4 ears corn, shucked
1 tablespoon butter
½ cup finely chopped onion
1 teaspoon finely chopped garlic
3 zucchini (about 1 pound), trimmed and cut into ¼-inch-thick rounds
2 egg yolks
1 large egg
½ cup milk
½ cup heavy cream
Salt to taste, if desired
Freshly ground pepper to taste
⅛ teaspoon nutmeg
¼ pound grated Muenster or Cheddar cheese (about 1 cup)
Method
Preheat the oven to 375 degrees.
Cut and scrape the corn off the cob. There should be about 2 cups. Set aside.
Melt the butter in a skillet and add the onion and garlic. Cook until wilted and add the zucchini. Cook, shaking the skillet, until the zucchini is slightly wilted. Remove from the heat.
Blend the yolks, egg, milk, cream, salt, pepper, and nutmeg. Add the corn and cheese and stir. Pour this over the zucchini and stir to blend.
Pour the mixture into a 4½- to 5-cup baking dish (an oval baking dish measuring about 1½ × 7 × 11½ inches is suitable). Set the dish in a shallow pan and pour about ½ inch boiling water around it. Place in the oven and bake about 25 minutes, or until the custard is set in the center.