Appears in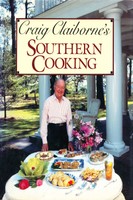 Ingredients
6 ears unshucked corn on the cob
8 tablespoons butter
½ cup finely chopped scallion
½ cup finely chopped sweet yellow pepper
½ cup finely chopped sweet red pepper
2 cups drained canned hominy
½ cup fresh or frozen baby lima beans
½ cup fresh or frozen field peas or lady peas, or use any tender, small white peas
¼ cup finely minced chives
Method
Preheat the oven to 475 degrees.
Open up the tops of each corn cob to expose the cornsilks. Chop off and discard the top of each ear to remove most of the corn silks. Drop the corn into cold water to cover and let stand 5 minutes. Drain.
Reshape the husks and wrap 2 at a time in aluminum foil. Arrange them on a baking sheet and place in the oven. Bake 15 minutes.
Shuck the corn cobs, discarding any remaining cornsilks. Cut away the kernels and set aside.
Heat the butter in a casserole and add the scallions and peppers. Cook briefly, stirring, and add the hominy. If fresh lima beans and peas are used, add them and cook until tender. If frozen peas are used, run them under the hot water tap until defrosted. Drain and add them to the casserole. Cook, stirring, about 1 minute and stir in the chives.