Appears in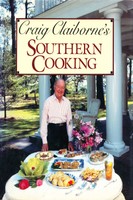 Ingredients
1 eggplant (about 1 pound)
3 tablespoons olive oil
½ pound fresh mushrooms
5 tablespoons plus 1 teaspoon butter
1 lemon
Salt to taste, if desired
Freshly ground pepper to taste
⅓ cup finely chopped onion
½ cup finely chopped celery
½ cup finely chopped sweet green pepper
10 raw shrimp
⅛ teaspoon nutmeg
Cayenne pepper to taste
¾ cup plus 2 tablespoons bread crumbs
⅓ cup heavy cream
1 egg yolk
Method
Cut the eggplant in half lengthwise. Use a sharp paring knife and carefully trim around the inside edges, leaving a rim approximately ¼ inch thick. Score the center flesh almost but not down to the skin.
Heat the oil in a skillet and place the eggplant halves, scored side down, in the oil. Cover with a tight-fitting lid or aluminum foil. Cook over low heat until the eggplant is tender, 15 to 20 minutes.
Preheat the oven to 350 degrees.
Using a large spoon, scoop out the eggplant flesh, leaving a shell. Chop the flesh.
Rinse the mushrooms and drain them. Slice the mushrooms, then chop them fine. There should be about 2 cups.
Heat 2 tablespoons butter in a skillet and add the mushrooms, the juice of ½ lemon, and salt and pepper to taste. Cook, stirring, until the mushrooms give up their liquid. Continue cooking until almost all the liquid evaporates.
Heat 2 tablespoons butter in another skillet and add the onion. Cook, stirring, about 3 minutes, and add the celery and green pepper. Cook about 5 minutes and add this to the mushrooms.
Peel and devein the shrimp and chop them fine. Add them to the mushroom mixture. Add the chopped eggplant flesh, nutmeg, cayenne, salt and pepper to taste, and 1 teaspoon lemon juice. Add ½ cup bread crumbs, the heavy cream, and egg yolk. Fill the eggplant shells with the mixture. Sprinkle each half with equal parts of the remaining bread crumbs, and dot with equal amounts of the remaining butter. Place the shells in an oiled baking dish and bake 25 minutes, or until piping hot and bubbling. Run the eggplant briefly under the broiler until nicely golden. Serve piping hot.