Appears in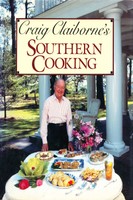 Ingredients
4 large sweet green peppers
Salt to taste if desired
Freshly ground pepper to taste
1 pound leftover cooked roast pork
¼ pound fresh mushrooms, rinsed and drained
½ bay leaf
6 tablespoons butter
1½ cups finely chopped onions
2 garlic cloves, finely minced
2 sprigs fresh thyme, finely chopped, or ½ teaspoon dried
2 tablespoons finely chopped parsley
1 tablespoon finely chopped fresh tarragon, or 1 teaspoon dried, crushed
1 cup cooked rice
2 eggs
½ cup pine nuts, optional
¼ cup fine fresh bread crumbs
¼ cup grated Parmesan cheese
2 cups chopped peeled tomatoes, preferably Italian plum tomatoes if canned
½ cup chicken broth
Method
Split the peppers in half lengthwise. Sprinkle the insides with salt and pepper.
Put the meat through a meat grinder fitted with a coarse blade, or chop it fine. There should be about 4 cups. Put the meat in a mixing bowl.
Put the mushrooms through the grinder and set aside.
Chop the bay leaf with a knife or in a small, clean coffee grinder.
Melt 1 tablespoon butter in a skillet or saucepan and add the mushrooms, 1 cup chopped onion, and half the garlic. Cook, stirring, until the mushrooms give up most of their liquid. Cook until most of the liquid evaporates. Add the thyme, bay leaf, parsley, and tarragon.
Add the mushroom mixture to the pork. Add the rice, eggs, salt and pepper to taste, and the pine nuts. Blend well.
Stuff the pepper halves with the mixture and sprinkle with bread crumbs and cheese.
Grease a flameproof baking dish large enough to hold the peppers with 3 tablespoons butter. Add the remaining ½ cup chopped onion and garlic and sprinkle with salt and pepper. Arrange the peppers in the dish.
Blend the tomatoes in an electric blender and pour them around the peppers. Add the chicken broth. Sprinkle salt and pepper over all. Melt the remaining 2 tablespoons butter and dribble it over the peppers.
Preheat the oven to 350 degrees.
Bring the dish to the boil on top of the stove, then place it in the oven. Bake 45 minutes. Serve the peppers with the tomato sauce in the pan.