Appears in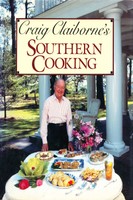 Ingredients
6 firm, ripe tomatoes (about 3½ pounds)
6 tablespoons butter
½ cup finely chopped onion
1 garlic clove, finely minced
½ cup finely chopped sweet green pepper
1 pound cooked ham, ground (about 3 cups)
2 cups cooked rice
2 eggs
½ cup heavy cream
Salt to taste, if desired
Freshly ground pepper to taste
1 teaspoon ground turmeric
¼ cup finely chopped parsley
¼ cup fine fresh bread crumbs
Method
Preheat the oven to 425 degrees.
Cut away and discard the core from each tomato. Slice the tomatoes in half to prepare them for stuffing. Cut out a small portion from the center of each tomato half. Squeeze the tomato halves gently to remove some of the seeds. Set aside.
Melt 2 tablespoons butter in a skillet and add the onion, garlic, and green pepper. Cook until wilted.
Combine the ham, rice, eggs, cream, salt, pepper, and turmeric in a mixing bowl. Add the parsley and the onion mixture. Blend well.
Mound equal amounts of the filling on each tomato half. Using the fingers, smooth over the mounds of filling.
Sprinkle with bread crumbs. Arrange the tomatoes on a buttered baking dish. Melt the remaining 4 tablespoons butter and pour it over the stuffed tomatoes. Bake 40 to 45 minutes, or until piping hot throughout and nicely browned.