Appears in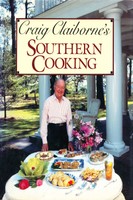 Ingredients
½ cup yellow cornmeal
½ cup flour
2 tablespoons sugar
1½ teaspoons baking powder
Salt to taste, if desired
¾ cup plus 3 tablespoons heavy cream
2 tablespoons melted butter
1 egg, separated
1 tablespoon butter
½ cup corn kernels freshly cut from the cob
Method
Preheat the oven to 425 degrees.
Select a standard mold for making corn sticks. Place it in the oven until thoroughly heated.
Meanwhile, combine the cornmeal, flour, sugar, baking powder, and salt in a mixing bowl. Blend well.
Blend the cream, melted butter, and egg yolk. Add this to the cornmeal mixture, stirring to blend.
Melt the 1 tablespoon butter in a small skillet and add the corn. Cook, stirring, just until heated through. Stir this into the batter.
Beat the egg white, and fold it into the mixture.
Brush the corn stick mold lightly with oil. Spoon an equal portion of the filling inside each corn stick mold.
Bake 15 to 20 minutes. Serve hot.