Appears in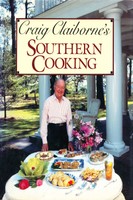 Ingredients
1 cup canned cream-style corn
1 cup yellow cornmeal
3 eggs
Salt to taste, if desired
½ teaspoon baking soda
¾ cup buttermilk
⅓ cup melted vegetable shortening or oil
¾ cup grated sharp Cheddar cheese
2 tablespoons butter
Method
Preheat the oven to 400 degrees.
In a mixing bowl, combine the corn, cornmeal, eggs, salt, baking soda, and buttermilk. Stir well and add the shortening and ½ cup cheese. Stir to blend.
Meanwhile, put the butter in a 9-inch skillet, preferably of black iron. Place it in the oven and heat until the butter melts without browning.
Pour the batter into the skillet. Sprinkle with the remaining cheese and bake 30 minutes, or until the bread is firm and golden brown on top.