Appears in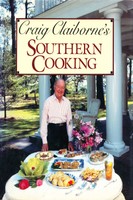 Ingredients
2 cups flour
1 teaspoon salt, if desired
8 tablespoons very cold butter
½ cup ice water
Method
Preheat the oven to 350 degrees. Place the oven rack in the center position.
Put the flour and salt in the container of the food processor. Turn the machine on and off twice to aerate the mixture. Cut the butter into small pieces and add it. Process until the mixture has the consistency of coarse cornmeal.
With the machine still running, pour the water through the funnel in a small stream. Process until mixture forms a ball.
Continue processing 2 minutes longer.
Turn the dough out onto a lightly floured board. Roll the dough into a rectangle about ⅛ inch thick. Fold the dough over itself to make 2 layers.
Use a biscuit cutter 1½ inches in diameter to cut out rounds of dough. As the dough is cut, arrange the biscuits on an ungreased cookie sheet.
Bake 25 to 30 minutes, until golden brown. Split the biscuits. If they are still soft in the center, return the biscuit halves briefly to the oven to crisp.