Preparation info
Yield:

10

or More Servings.
Appears in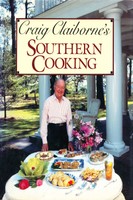 Ingredients
½ pound butter
3 cups sugar
4 cups sifted flour
1 teaspoon baking soda
4 eggs
1⅓ cups buttermilk
2 tablespoons finely grated orange rind
1½ cups chopped pitted dates
1 cup finely chopped pecans
1½ cups freshly squeezed orange juice
Method
Preheat the oven to 350 degrees.
Cream together the butter and 2 cups sugar, until light and fluffy. Sift together the flour and baking soda and add it to the butter mixture, stirring until well blended. Beat in the eggs, buttermilk, 1 tablespoon grated orange rind, the dates, and pecans.
Pour and scrape the mixture into a 4-quart tube pan and bake 1 hour and 10 minutes, or until a cake tester inserted in the cake comes out clean. Do not unmold the cake.
Combine the remaining 1 cup sugar with the orange juice and remaining 1 tablespoon grated orange rind. Bring to the simmer, stirring until the sugar is dissolved. Gently plunge an ice pick or skewer in several spots on top of the cake and pour the orange juice mixture overall. Let stand 30 minutes or longer, until it is absorbed and the cake is cool. Unmold and serve cut into wedges.