Preparation info
Yield:

12

or More Servings.
Appears in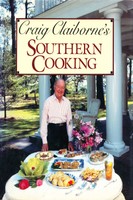 Ingredients
¾ pound butter
2 cups sugar
6 eggs
4 cups flour
1 cup bourbon, brandy, or rum
½ cup dark corn syrup
1 cup Fig Preserves
6 cups raisins
8 cups broken pecan halves
1 teaspoon freshly grated nutmeg
2 teaspoons ground cinnamon
1 teaspoon ground cloves
Method
Preheat the oven to 275 degrees.
Cream together the butter and sugar until light and fluffy. Beat in the eggs, 1 at a time, and fold in the flour. Combine the bourbon, corn syrup, and preserves and stir in.
Add the raisins, pecans, nutmeg, cinnamon, and cloves and fold to blend thoroughly. Pour and scrape the batter into a buttered 4-quart tube pan and bake 2½ hours, or slightly longer. Let stand until cool. Unmold.