Appears in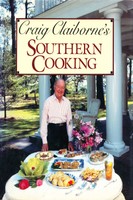 Ingredients
¼ pound butter, at room temperature
1 cup sugar
5 large persimmons
2 eggs, beaten
¼ cup sifted flour
1 teaspoon baking powder
½ teaspoon cinnamon
¼ teaspoon ground cloves or allspice
¼ teaspoon salt, if desired
¼ cup white cornmeal
1½ cups milk
1 cup grated raw sweet potato
1 teaspoon vanilla
Method
Preheat the oven to 350 degrees.
Work the butter and sugar together with a wooden spoon until creamy.
Force enough persimmons through a food mill to yield 3 cups of pulp.
Add the pulp to the butter and sugar along with the eggs, beating well.
Sift together the flour, baking powder, cinnamon, cloves or allspice, and salt. Stir in the cornmeal.
Add the dry ingredients alternately with the milk to the persimmon mixture. Add the sweet potatoes and vanilla.
Turn into a greased 2-quart casserole and bake 1 hour, stirring thoroughly four times as the mixture bakes.
Serve warm with whipped cream, if desired.