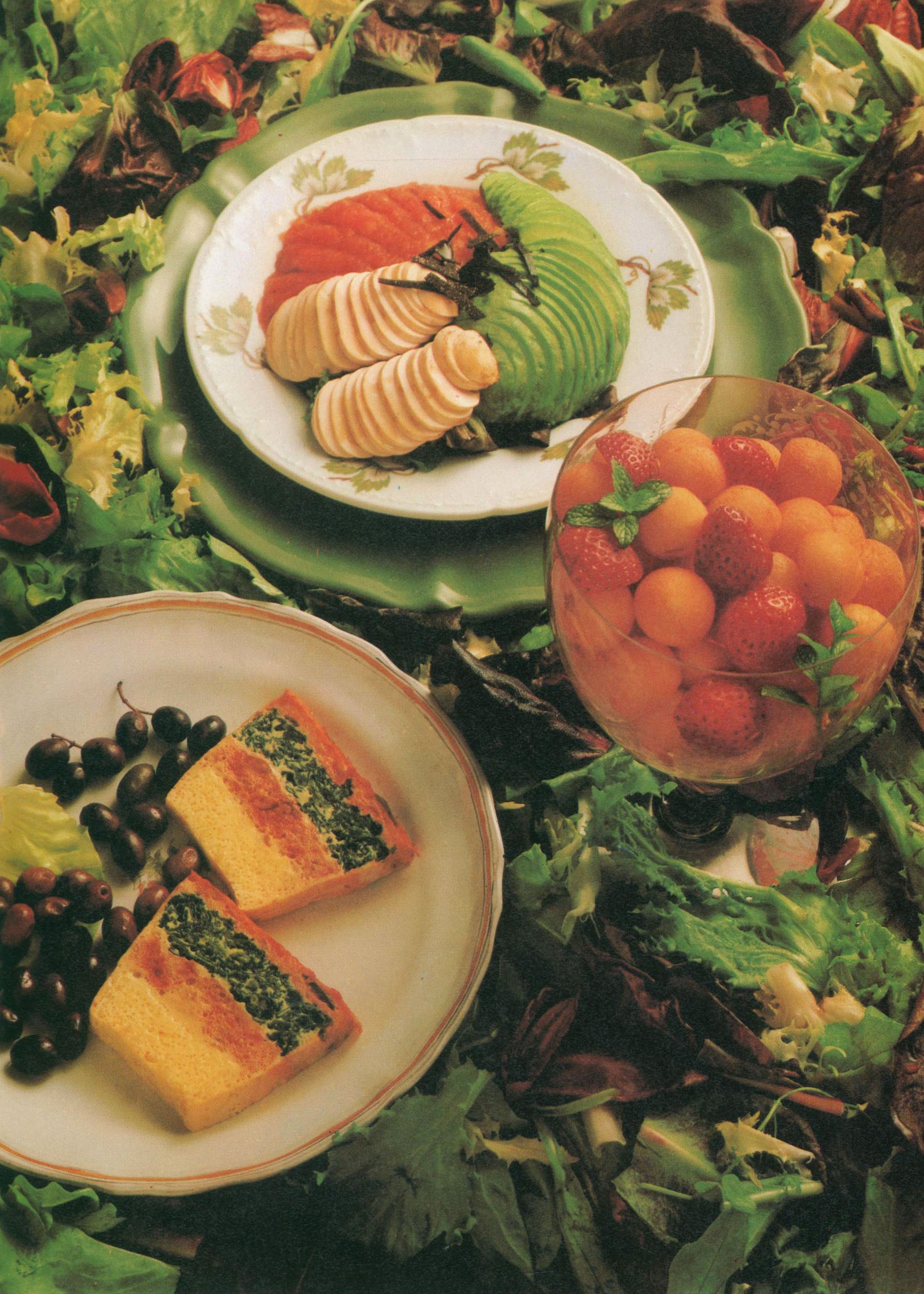 Moderately expensive
Ingredients
1 avocado pear weighing about 180 g (6½ oz)
1 heart of a frizzy or curly endive
350 g (12½ oz) firm red tomatoes
2 large white mushrooms (about 80 g (3oz) each)
1 tablespoon red wine vinegar
½ teaspoon Dijon mustard
3 tablespoons olive oil
20 g (¾ oz) truffles cut in tiny julienne strips (optional)
salt, pepper
Method
Bring 1 litre (1¾ pints) of water to the boil in a saucepan. Remove the stalks and plunge the tomatoes into the boiling water for 2 minutes. Then run them under the cold tap. They will now be very easy to peel. Cut each in two and press the halves in the palm of your hand to squeeze out the pips and excess juice. Cut the tomatoes into small dice and set aside in a colander. Wash and dry the endive carefully.
Cut the avocado in two lengthwise and remove the skin – it should come away easily if the avocado is perfectly ripe. Cut the flesh into thin slices and set aside on a plate. (If you are doing this in advance, keep the stone and put it with the avocado slices on a plate under a covering of plastic wrap. This helps prevent the avocado flesh darkening.) Take the tops of the two mushrooms, keeping the stalks for another use, wash and dry them and slice thinly.
To arrange the salad, put a tuft of endive in the middle of each plate. The rest of each plate is divided into three parts – the first being filled with the drained dice of tomato, the second with the slices of mushroom and the third with the slices of avocado. If you are using truffle julienne, sprinkle them over the tufts of endive.
Mix the wine vinegar and mustard in a bowl. Season with salt and pepper, add the olive oil and mix thoroughly. Season the salads with salt and pepper and sprinkle the vinaigrette over them with a spoon. Serve chilled.