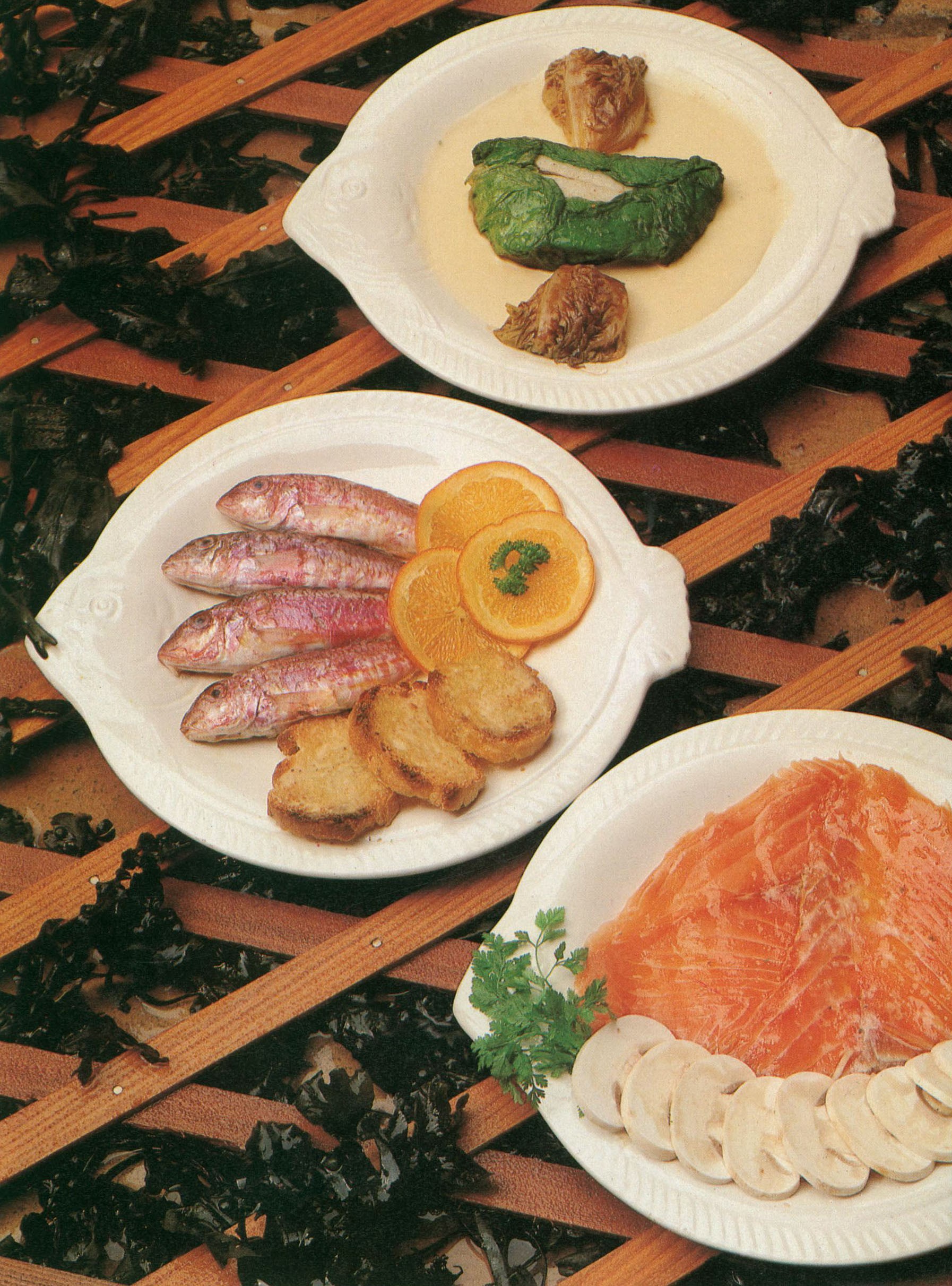 Rather expensive
Ingredients
1 sea-bass weighing 1.5 kg (3¼ lb)
2 nice green lettuces, not too tightly curled
1 tablespoon chopped shallot
3 generous tablespoons dry white wine
3 tablespoons dry white vermouth
3 tablespoons whipping cream
1 egg yolk
70 g (2½ oz) butter
a trickle of oil
2 tablespoons flour
salt, pepper
Method
If a friendly fishmonger has not already done it for you, gut and scale the fish and remove the fillets, then skin them carefully. Cut each fillet into two. Season with salt and pepper and sprinkle with flour. Heat 15 g (½ oz) of butter and a trickle of oil in a frying-pan and brown the fillets briefly, 1 minute on each side over a brisk heat. Put on one side. Preheat the oven to 170°C/325°F/Mark 3.
Put 2 litres (3½ pints) water on to boil, and meanwhile detach the outer leaves of the lettuces and wash them, together with the hearts, when the water boils, plunge in the outer lettuce leaves and remove them almost immediately with a slotted spoon. Refresh in cold water and drain. Next plunge the lettuce hearts into the same boiling water for 5 minutes, then refresh and drain. Cut each heart in half vertically, and flatten them slightly. Carefully dry the outer leaves with kitchen paper and wrap them round the bass fillets (1).
Butter a gratin dish large enough to contain the fillets, and strew it with the chopped shallots. Cover them with a bed of the flattened lettuce hearts. Arrange the four lettuce-wrapped fillets of bass on this bed, pour the white wine and vermouth over them and cook for 12 minutes in the medium oven.
When they are cooked, drain the bass fillets, still in their green lettuce wrappings, and the lettuce hearts, and arrange them on a serving dish, putting the lettuce hearts underneath the fish. Keep hot.
Pour the cooking juices into a saucepan, put it over a fierce heat and reduce until there is no more than 2 tablespoons left. Beat the cream and the egg yolk together in a bowl and whisk this mixture into the reduction away from the heat. Return to the heat, whisking all the time, and remove just before the sauce comes to the boil. Incorporate the remaining butter little by little in small pieces whisking continuously. Taste for seasoning. Pour the sauce over the bass fillets and serve.
Recommended wines
White wines such as Graves, Hermitage blanc, Meursault