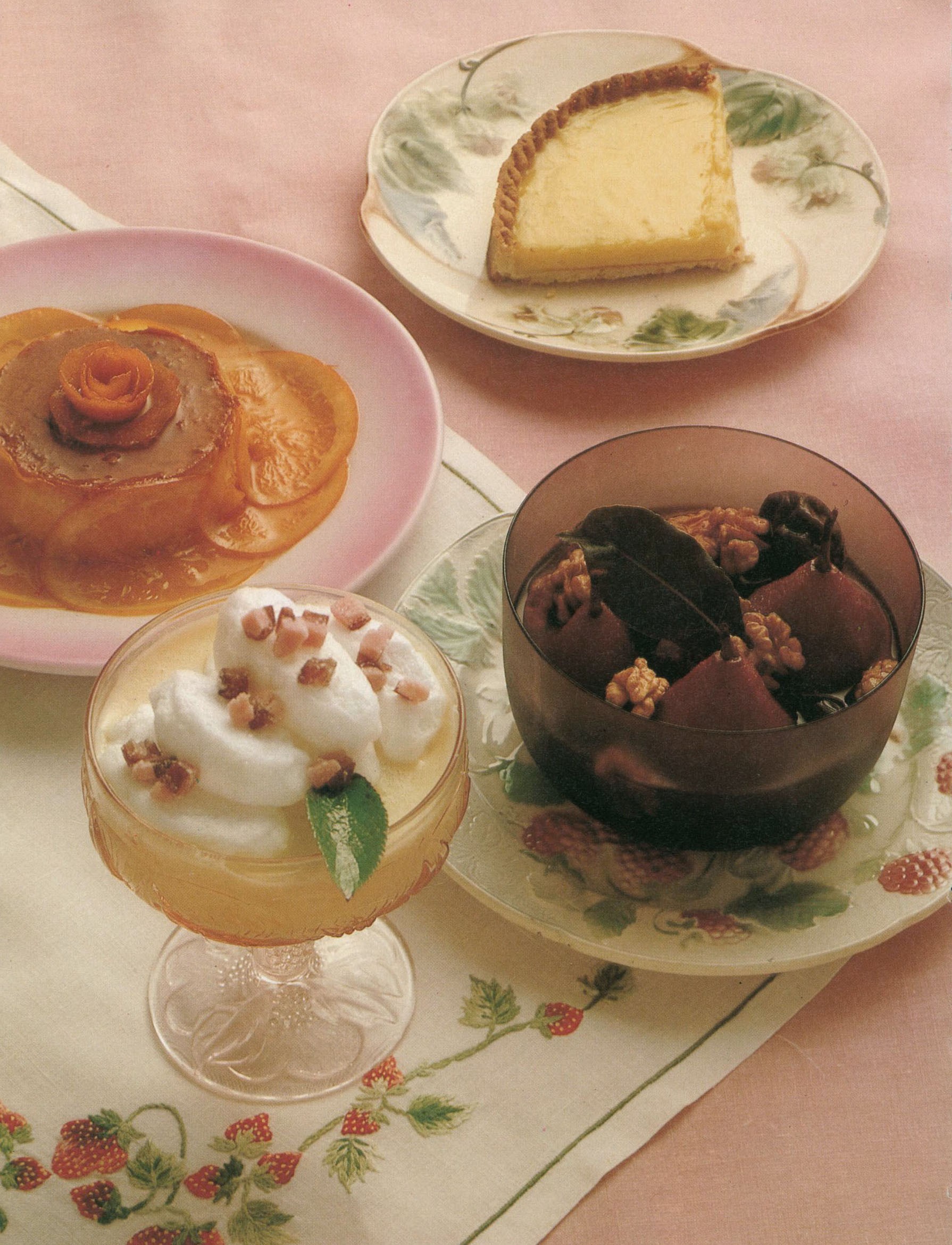 Inexpensive
Ingredients
½ litre (scant pint) milk
3 whole eggs
3 egg yolks
2 tablespoons orange liqueur
200 g (7 oz) caster sugar
½ vanilla pod
2 oranges, preferably seedless
Method
Preparation
Preheat the oven to 180°C/350°F/Mark 4. Put 100 g (3½ oz) of caster sugar in a small saucepan with 2 tablespoons of water. Put the pan over a gentle heat and let the sugar caramelise to a good brown. Now add 3 more tablespoons of water, shaking the saucepan. Pour into the soufflé dish covering the bottom with a layer of caramel. Peel an orange 'à vif' – for instructions — and slice into thin rounds. Arrange these on top of the sugar in the bottom of the soufflé dish. Put on one side.
Pour the milk into a saucepan and add 50 g (1¾ oz) of sugar and half a vanilla pod. Bring to simmering point over a low heat.
Put the eggs, egg yolks, 50 g (1¾ oz) of sugar and the finely grated rind of an orange into a bowl and whisk well. As the milk comes to the boil take out the vanilla pod, and pour the flavoured milk on to the egg mixture, whisking all the time. Strain through a fine sieve and add the orange liqueur. Pour the mixture into the soufflé dish lined with caramelised sugar and slices of orange.
Put the soufflé dish into the bain-marie (large casserole) with water half-way up its sides, and put the casserole into the preheated oven for 40 minutes. Make sure that the water in the bain-marie does not evaporate too much, adding more if necessary.
After 40 minutes take the dish out of the oven and allow to cool for at least 2 hours. To take the custard out of its mould slide the blade of a small knife all round the sides of the dish, then turn it over on to a plate, and give it a good shake. Serve at once.