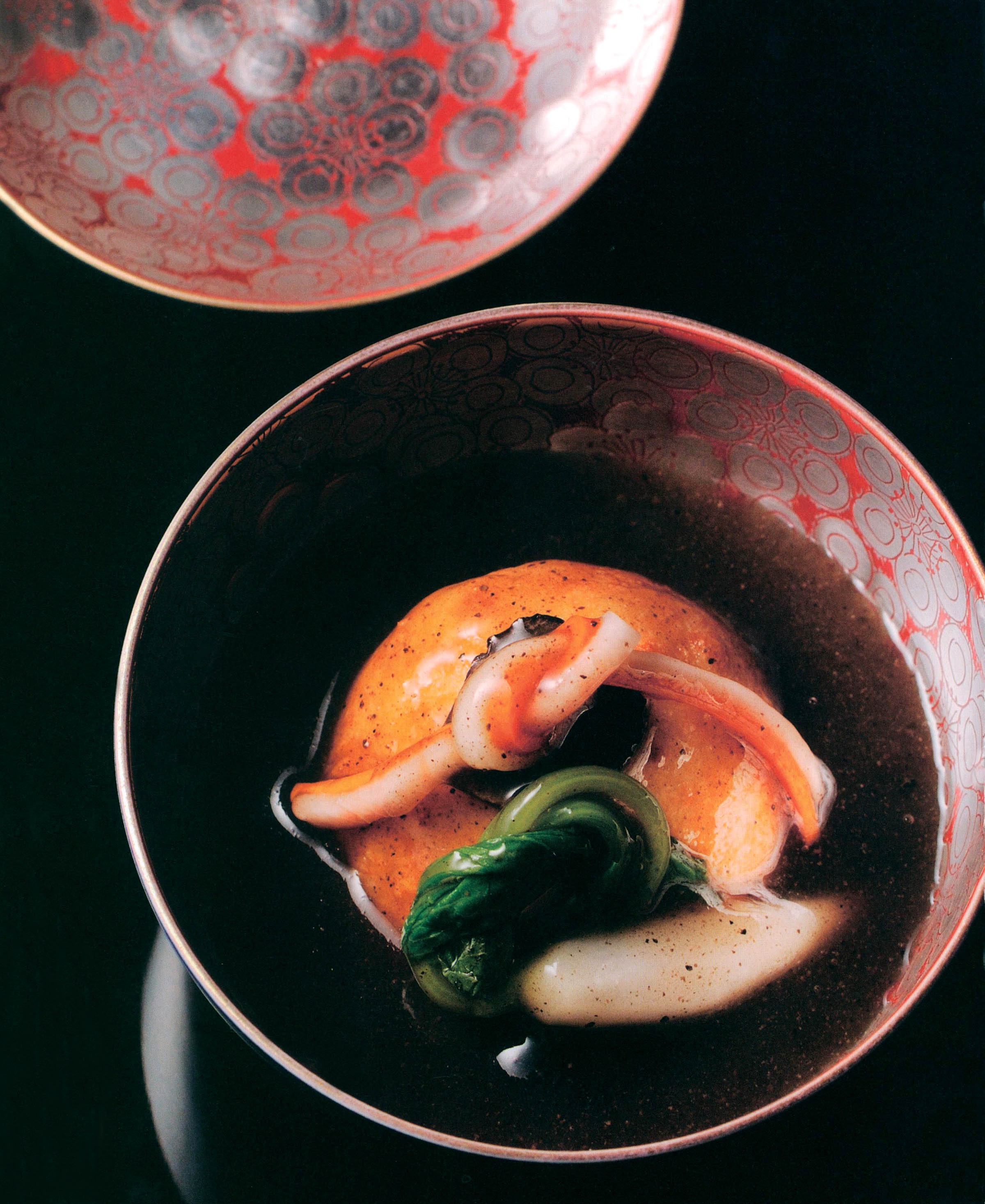 Ingredients
For the Quail Filling
270 g quail meat, finely minced
400 ml sake
10 ml soy sauce
2.5 ml light soy sauce
4 ml mirin
Ground sansho pepper, to taste
For the lily bulb mixture
300 g raw lily bulbs, rinsed
100 g mountain yams, grated
35 g rice flour for mochi dumplings
1 egg white
Some nikiri-sake (sake heated to burn off its alcohol content and distinctive taste)
50 ml fresh cream
Some light soy sauce, to taste
Some salt
For Vacuum Cooked Foie Gras
70 g foie gras, washed
Some yuzu zest
Some chopped shironegi (Japanese leek)
3 mm square piece of ginger, unpeeled
180 ml sake
16 ml soy sauce
4 ml light soy sauce
8 g sugar
For the Tied Daikon and Carrot Bundles
Some daikon radish, peeled
5 aomi green daikon radishes
½ red carrot, peeled
360 ml ichiban dashi
10 ml light soy sauce
2 g salt
For the Truffle Sauce
1.3 L ichiban dashi
35 ml light soy sauce
Some mirin
7 g salt
Truffles, as needed, blended to a paste
25 g kuzu powder dissolved in 45 ml water
Method
Add the sake, light soy sauce, mirin and sugar to the quail mince and cook in a pan. Sprinkle on the sansho pepper.
When the mince from (l) is cool, blend in a food processor and shape into 20 g balls.
Cut the lily bulbs into evenly sized pieces. Steam until tender, remove from the steamer and then cool.
Mix the rice flour with the nikiri-sake to make a dough with a firm, springy consistency.
Blend the steamed lily bulb, mountain yams, dough from (4), egg white, fresh cream, salt and light soy sauce together in a food processor.
For vacuum cooked foie gras, bring the sake, soy sauce, light soy sauce and sugar to the boil, then cool.
Put the foie gras, yuzu zest, shironegi and ginger in a vacuum-pack bag with the liquid from (6). Seal the bag. Vacuum cook at 53°C for five hours. Remove the fois gras from the bag and wrap it with the mince from (2), to make meatballs. Then wrap each of the meatballs in 40 g of (5).
Bring the dashi, light soy sauce and salt for the daikon and carrot bundles to the boil, then leave the stock to cool. Cut the daikon and carrot into long strings, sprinkle with salt and leave until soft. Take one string of daikon and one of carrot and tie together. Rinse the salt from the vegetables, boil and refresh in ice water.
Carve the green daikon into mini daikon shapes keeping the leaves on. Then boil them with the leaves out of the water. When cooked, briefly boil the leaves, then refresh in cold water. Place the strings and mini daikon in the stock to soak.
Heat the dashi, light soy sauce, salt and mirin for the truffle sauce in a pan. Once simmering, add the kuzu to thicken and the truffle paste.
Steam the lily bulb dumplings from (7) and cool. Place the dumplings into serving dishes, and garnish with the bundles from (8). Pour the sauce from (10) on top.