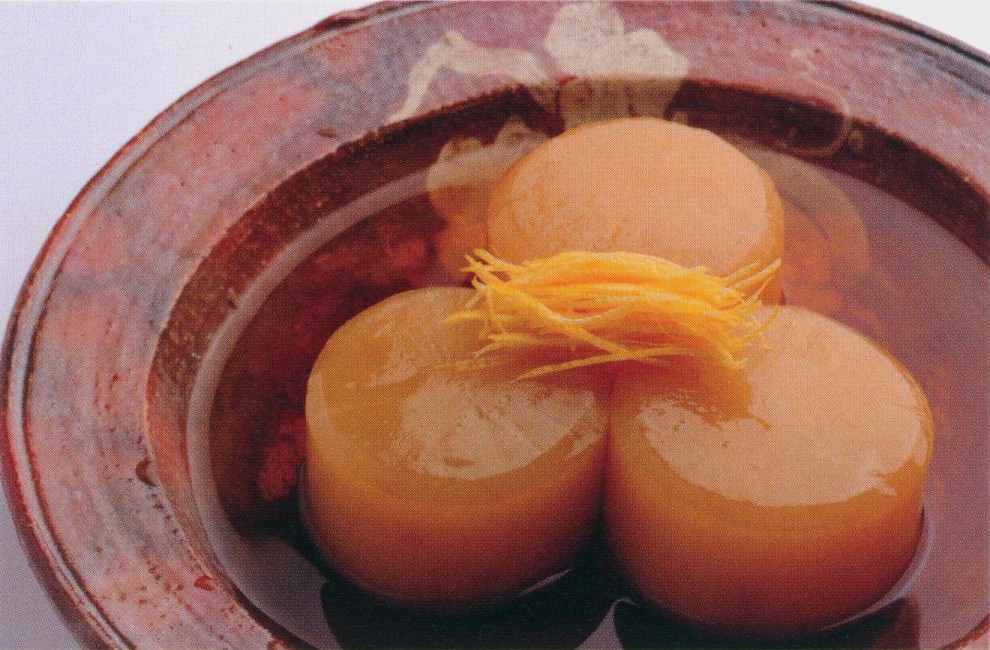 Ingredients
700 ml dashi
4 small daikon radishes (100 g each), skins on
1 tbsp light soy sauce
½ tsp salt
1 tsp mirin
Some bonito flakes (oigatsuo)
Some yuzu (Japanese citron)
Method
Peel the daikon thickly then cut into 2 cm thick rings. Peel around the edge of each ring to create a curved finish. Carve a cross shape into the top of each with a knife to avoid shrinkage.
Blanch in water left over from washing rice until a bamboo skewer can pass through the daikon without too much resistance, then place in cold water to cool.
Add the daikon from (2) to a pan of cold water and heat. Remove just before it reaches the boil, then cool again in water. This process ensures that the smell of rice bran does not linger on the daikon.
Add the daikon to the dashi then add extra bonito flakes (oigatsuo), place a drop lid on top and simmer for 30 to 40 minutes
Place on a serving dish and add some yuzu peel, which is cut into thin matchsticks.